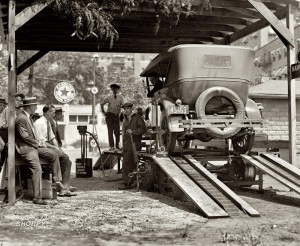 There is a classic photo – one that we first saw a good number of years ago – of some hard-working fellas gathered around an early model Ford atop a grease rack. This photo was taken probably around the 30s, at some sort of service station or working facility. Why the photo stuck with us is that the time period was special for cars and the services provided for them was personal.
Today services stations are called convenience stores and we use them for gas, first and foremost, and sodas and snacks after that. But do we get your car serviced there? Not at all. Most of the time we don't even talk to a human while there. We take our cars – our modern cars – to the oil change place or the dealership, and only when absolutely necessary. It's a different era and modern cars have different needs than your classic and vintage autos, and that's where Vintage Auto Repair exists – to take care of your classic and vintage auto needs.
We are the modern day shop, and guys, in this classic photo. We are the neighborhood shop where people gather for coffee and story telling while getting their classic cars serviced. From routine oil changes to custom fabrication – we got you covered. Our guys know cars from the '70s on back. We've owned, built, worked on and driven just about every classic American car you can name. We love these cars and we know them inside and out. We know how they were built, how they have been used over the years, where to find the parts and how to keep them in great running condition.
On any given day you can stop by the shop and see the depth of our trusted experience. We'll have guys working on cars from all eras – cars that will drive out the shop that day by their happy owners. Stop on by, have some coffee, and see for yourself.